The Complete Guide to a Remote Workforce
Equipping Employees With Tools to Stay Secure and Productive
Small and midsize organizations, along with their larger enterprise counterparts, have been forced to become experts at shifting their workforces. Many went from in-office setups to 100% remote to hybrid arrangements at various times during the pandemic. And these types of changes were not typically planned for 2020.
Some businesses handled these changes well, while others struggled. There are many reasons for the successes and failures, which are discussed in detail within this guide to a remote workforce – so keep reading for the full story.
The key to establishing a successful remote or hybrid work environment boils down to equipping teams with the right IT tools to stay secure and productive – and ensuring those platforms and tools are always on and accessible.
As we evaluate where organizations are at today,1 we find:
16% of all worldwide companies are 100% remote.
77% of remote workers say they are more productive working from home.
85% of managers believe having teams with remote workers will become the new norm.
74% of workers say that having the option to work remotely would make them less likely to leave the company.
The three biggest challenges associated with remote work are unplugging after work (22%), loneliness (19%), and communication/collaboration (17%).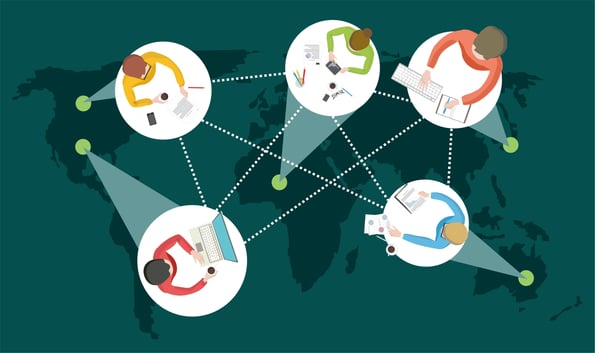 Common Challenges of Remote Work
There are quite a few challenges that companies need to address in order to make remote work successful.2 Here are some of the most common that have cultural significance:
Time management & productivity – When working from home, there are many distractions that can potentially get you sidetracked: spouse, children, pets, chores, phone calls, etc. The key to overcoming these challenges is to build a schedule that works for you and provides a good work-life balance, while developing the discipline to stick to it.
Maintaining a working environment at home – Setting up shop wherever you can is not the best plan of attack. Your best bet is to set up a dedicated home office space that offers uninterrupted time with ample space for all your work-related equipment, such as a desk, chair, computer, printer, cell phone, charger, pen and paper, etc.
Collaboration & communication – Fragmented communication is a very real problem. Sometimes remote workers feel they aren't getting the complete picture when answers they need don't come quickly. Businesses with geographically dispersed employees can rely on Xceptional for customized, superior, and flexible unified communications solutions that will empower your teams to communicate with each other and your customers – from anywhere.
Interpersonal needs – With no commutes to contend with, remote workers sometimes feel isolated and develop fears of missing out (FOMO). They find it hard to separate their work and personal lives and don't develop a healthy work-life balance. Shutting off communication at the end of the work day is necessary to give you time to meet all your personal needs and responsibilities.
Security of information & devices – Remote workers depend on technology that provides the protections necessary to do their jobs effectively. But the harsh truth is they are always at risk of being cyber attacked. It's important that IT teams ensure employees have monitoring, endpoint detection, and response solutions in place to protect their hardware, software, and remote access while also providing training on cyber security hygiene.
Regular communication/synchronization – Scheduling regular communications, meetings, or touch-point calls will help employees in your organization stay connected. These meet-ups can be organization-wide, department or team-oriented, or one-on-one between a manager and employee. The key to making these sessions valuable and impactful is to work with the participants to create the session agendas, themes, or structure, and to try to keep the sessions fun, engaging, or entertaining. Many organizations create music, art, food, travel, or other fun themes for these meetings. Some organizations have attached happy hours, cooking, or some other type of craft to the longer meetings to break up the monotony that often plagues them.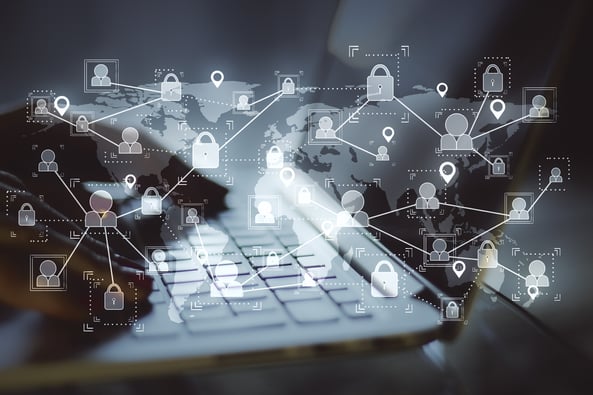 Fulfilling the Needs of Your Remote Workers
Remote workers' practical needs include dependable equipment such as laptops, chargers, headsets, office furniture, file sharing, and resource management, but they also include advanced technologies such as VPN, encryption, anti-malware, content permissions, and cyber security monitoring.
If your company allows working from home, the best home office hardware, software, and equipment will go a long way towards ensuring effective communication and productivity.3 Below is a list of items to consider, but each individual organization should determine what is needed in order for their employees to function efficiently:
A standing or flexible desk – Sitting all day can be mentally draining and bad for your health. A standing or flexible desk can be positioned accordingly to make your employee feel more energized.
Comfortable, ergonomic chair – Nobody wants to be standing all day, so to help ensure enough rest, a functional chair that provides lumbar support will go a long way toward getting more work done and helping maintain their backs at the same time.
Ergonomic keyboard – Taking care of hands and fingers that are straining from typing is necessary for many workers. A wireless, ergonomic keyboard or a gummy silicone keyboard can provide rest for weary fingers and hands.
Secondary screen – Dual station monitors can help aid productivity. Staring at spreadsheets on a small laptop screen may strain the eyes and result in a loss of productivity.
High-quality webcam and microphone – If your employee laptops don't include a dependable webcam and microphone, having a reliable set is necessary for effective video conferencing and collaboration needs.
Headphones or headsets – Having a quality headset or headphones will help improve communication capabilities so your employees can hear better via quality voice transmissions during video conferencing.
As for technology, having an arsenal of tools and platforms that provide advanced security with top-notch protections is paramount for remote employees4:
VPN and encryption – If your remote employees access sensitive files and customer data, the organization must take precautions to minimize potential security risks. Employing these advanced cyber security solutions is necessary for protecting organizational information and ensuring regulatory compliance.
Anti-malware, virus, and spyware software – Good anti-malware tools work alongside your main protection to provide added security against specific threats like ransomware, malware, etc.
Enabling content permissions – Only giving access to the necessary files and specific network locations that are essential for performing one's job is a great insurance policy for safeguarding your networks.
Cyber security monitoring – Employing 24/7 monitoring and detection for cyber threats and data breaches is a crucial part of cyber risk management. It lessens the chance for a cyber attack before the criminals are able to access your network. Xceptional's network security services provide the knowledge and experience needed to ensure your networks and customer data are kept safe and sound.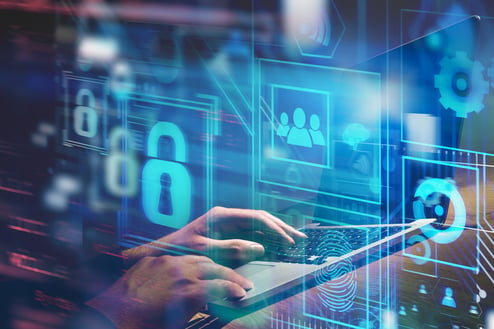 The Guide to a Remote Workforce's Organizational Structure
Organizations should develop policies that address various procedures to help safeguard their networks. This step includes the following protocols:
Training – Periodic training that helps employees learn how to access and navigate company owned networks, hardware, and software when working remotely.
Written policy – Official published policies that clearly define the expectations and responsibilities for employees that work from home.
Automated security - Placing the responsibility for various types of security measures on the company instead of the individual employees in order to lessen security risks, such as password expiration and creation, network auto log-offs, etc.
Limiting single sign on – Organizations fare better by limiting authentications that allow a user to log into several systems with one single ID and password.
Employing multi-factor authentication – Granting access to networks only after the user presents two or more pieces of evidence to an authentication mechanism helps prevent security vulnerabilities. These authentications include system generated access codes, RSA tokens, security questions and answers, etc.
Developing a chronological, step-by-step, remote security checklist based on the above recommendations provides a roadmap for organizations and employees to follow

We're Here to Help You Leverage This Guide to a Remote Workforce
Xceptional is your on-call expert to establish a remote workforce. If your organization needs assistance with developing a safe and secure remote work policy, or implementing various compliance and security solutions to lessen remote network risk, we can help. Embrace the Xceptional experience today by contacting us, and one of our technology experts will be in touch to schedule your initial consultation.
Learn How to Accelerate the Value and ROI of IT Investments In Our Free Ebook