Setting the Record Straight on Security and Compliance Regulations
Regulatory compliance and security are two separate concerns that are tightly woven together by their reliance on one another for peace of mind and success in the business world. If one is taken without the other, they are somewhat diminished and deemed ineffective.
But taken together, security and compliance regulations have the capability to deliver policy and protection that satisfies a myriad of issues for organizations of all types and sizes.
What Is Regulatory Compliance?
Compliance means conforming to a rule, such as specification, policy, standard, or law.1 Regulatory compliance describes the goal that businesses aspire to achieve in their efforts to ensure they are always aware of and take steps to comply with relevant state, federal, or international laws, policies, and regulations.
For example, businesses in the healthcare industry are subject to rules set forth by The U.S. Health Insurance Portability and Accountability Act of 1996 (HIPAA) to protect private health information (PHI). Specific industries such as this are required to enact compliance measures for added protection.
In terms of business technology, this means ensuring sensitive information is managed in a way that keeps it private. Common industries that require regulatory compliance are:
Healthcare – Any healthcare organization that handles PHI is required to enact protections to keep that information safe.
Finance – Organizations that come in contact with sensitive financial information are required to provide various cyber security protections to keep this information out of the hands of malicious actors.
Government – Businesses that have access to government records and information are required to put various protections in place to keep classified information secure.


Compliance Doesn't Always Mean Security
While compliance isn't security and security isn't compliance, they are both very important to businesses of all types and sizes.
Compliance is understanding:
Regulatory frameworks
Policies and standards
Documentation
Regulatory compliance is when a business follows federal or international laws and regulations relevant to its operations. The specific requirements can vary based on their industry and type of business. Some of the best known examples are HIPAA, the Sarbanes-Oxley Act of 2002, and the European Union's General Data Protection Regulation of 2016.
Regulatory compliance differs from other corporate compliance measures that follow various rules and internal policies. Both are equally important to ensure safety, integrity, and ethical behaviors in business.
Organizations get in trouble when they don't follow these laws and regulations and are subject to lawsuits and financial liability. And on the other side of the coin, having advanced security solutions in place to keep sensitive customer information and data safe is paramount.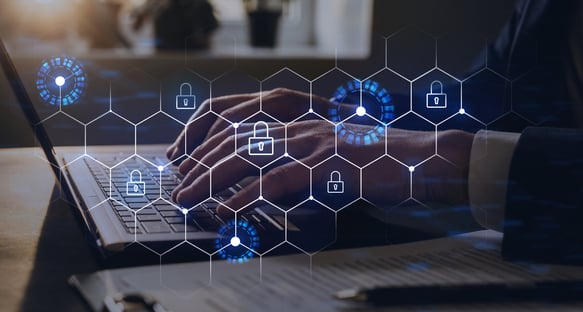 Compliance Paired With Cyber Security Technology Is Your Best Bet
Security is employing advanced measures to thwart cyber security threats and scams that aim to steal your customer information and data. These measures include:
Physical controls – Technology based controls such as firewalls, antivirus platforms, data center and perimeter protection, network risk assessment, and host/endpoint security
Network access protections – Security vetting for remote and hybrid network access before granting access to company networks
User authentication – Process that allows the device to verify the identity of someone wishing to connect to the network by inputting time sensitive codes or temporary passwords
Training and processes – Ongoing policy training classes and courses designed to keep cyber security top of mind for network and asset protection
Having measures in place for security and compliance regulations should be one of the most important end goals for businesses of all sizes. With the rise of cyber security threats designed to cripple networks and in some instances require businesses to pay millions in ransomware fees, organizations must put in place the most advanced security measures possible to keep out the bad guys and keep their sensitive data and information safe.
The Benefits of Regulatory Compliance Consulting
Keeping up with security and compliance regulations without expert help can be a challenge at best – and lead to legal consequences at worst. Smart organizations leverage regulatory compliance services from a provider with the experience to ensure your data and networks stay protected – and that you adhere to any regulations your industry is subject to.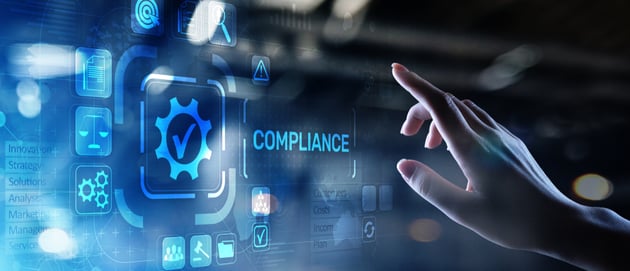 We're Here to Help
If your business lacks the necessary protections to keep up with security and compliance regulations, Xceptional can help. We believe in these causes so much that we created this free Security and Compliance Guidebook that simplifies these subjects to help you understand the potential pitfalls and how to best set yourself up for success in dealing with these complex issues. You can download the Guidebook by filling out the form below.
You can also learn more about this and other technology-related issues by registering for our upcoming free webinars and viewing replays of our past webinars. Contact us, and one of our professional technology experts will get in touch to set up your initial consultation and get you started on the road to regulatory compliance services to keep your business safe and secure.
Learn the Benefits of Compliance-as-a-Service and Security-as-a-Service In Our Free Ebook